---
WARBIRD REGISTRY
>
CORSAIR REGISTRY
>
PREVIOUS PAGE
---
CORSAIR/N31518
---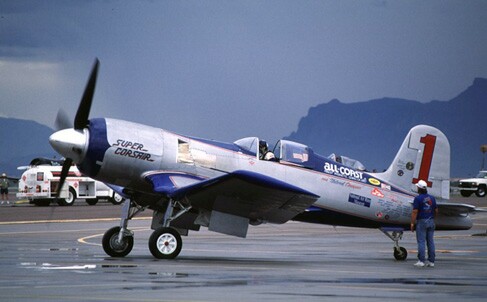 ---
Bureau #: ?
Construction #: ?
Civil Registration:
N31518

Model(s):
F4U-1D Corsair
Super Corsair
Name: None
Status: Destroyed
Last info: 1994

---
History:
Delivered to U.S. Navy as Bu. ?????, 19??.
Used as movie prop, Hollywood, CA.
Ed Maloney/The Air Museum, Ontario, CA, circa 1959-1969.
- Displayed fuselage only, with 7 Japanese victories.
- Rebuilt Chino, CA, as racer, 1982.
-- Equipped with P&W R4360.
James Maloney/Planes Of Fame, Chino, CA, November 1982-1984.
- Registered as N31518.
Steve Hinton/Fighter Rebuilders
, Chino, CA, 1984-1994.
- Designated Race #1.
- Destroyed in crash at Mesa, AZ, March 19, 1994.
-- Developed engine trouble and caught fire during air race.
-- Pilot bailed out during emergency climb.
-- Pilot injured when he struck horizontal stabilizer.
-- The airplane disintegrated on impact.
---
NTSB Identification: LAX94LA168 . The docket is stored in the (offline) NTSB Imaging System.
14 CFR Part 91: General Aviation
Accident occurred Saturday, March 19, 1994 in MESA, AZ
Aircraft: FIGHTER REBUILDERS F-2G, registration: N31518
Injuries: 1 Serious.

THE PILOT WAS PARTICIPATING IN AN UNLIMITED CATEGORY AIR RACE WHEN THE ENGINE BEGAN TO SMOKE AND RUN ROUGH. THE PILOT CLIMBED THE AIRPLANE TO SET-UP FOR AN EMERGENCY LANDING, BUT THE AIRPLANE CAUGHT FIRE. THE PILOT BAILED OUT AND WAS STRUCK BY THE LEFT HORIZONTAL STABILIZER. THE ENGINE DISINTEGRATED ON IMPACT.
The National Transportation Safety Board determines the probable cause(s) of this accident as follows:
the airplane sustained a total loss of power and an in-flight fire for undetermined reasons.

---
Source(s):
Chapman, John & Goodall, Geoff, Edited by Paul Coggan - Warbirds Directory,Warbirds Worldwide Ltd., Mansfield, England, 1989.
Goodall, Geoff - Warbirds Directory-4th Edition, 2003.
NTSB, www.ntsb.gov

Photo Source(s):
Unknown


---

Research Assistance:
None

---
WARBIRD REGISTRY
>
CORSAIR REGISTRY
>
PREVIOUS PAGE
---