---
WARBIRD REGISTRY
>
CORSAIR REGISTRY
>
PREVIOUS PAGE
---
CORSAIR/Bu. 97280
---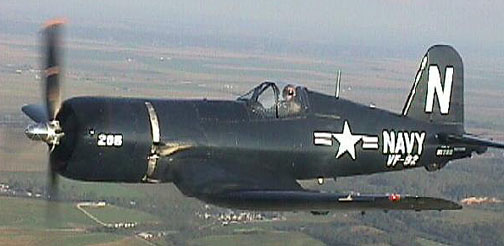 ---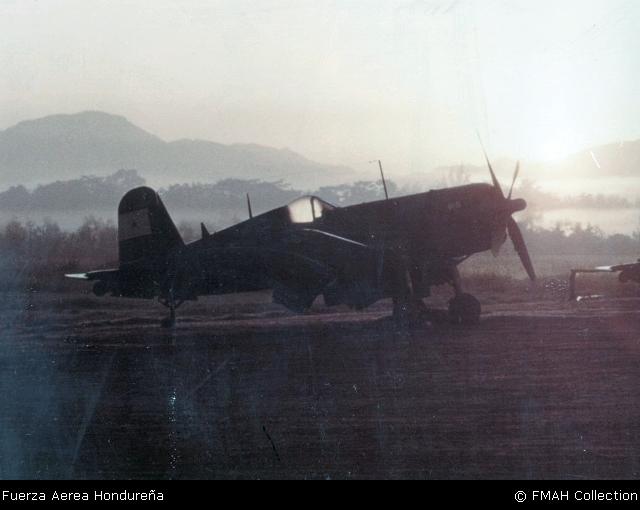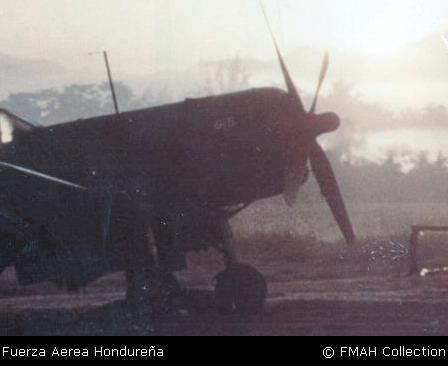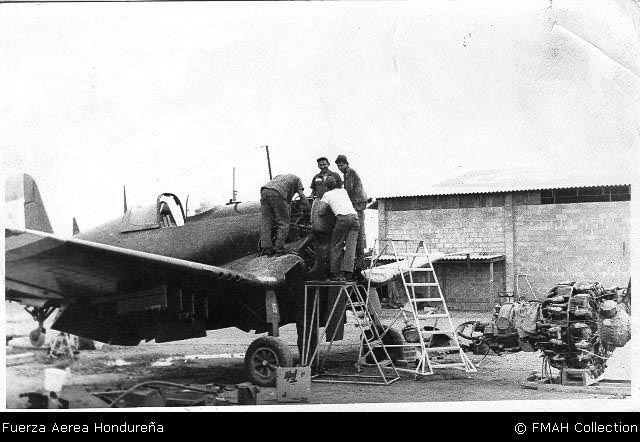 ---
Bureau #: 97280
Construction #: 9434
Civil Registration:
N49092
N712RD

Model: F4U-4 Corsair
Name: None
Status: Destroyed
Last info: 2002

---
History:
Delivered to U.S. Navy as Bu. 97280, 19??.
Robert Bean, Hereford, AZ, 1959.
Delivered to FA Hondurena as FAH 615*, 1961-1978.
George Heaven & Jim Nettle/Hollywood Wings, Long Beach, CA, 1978.
- Delivered from Tegucigalpa AB to Houston, TX, December 1978.
Robert L. Ferguson & Howard E. Pardue, Breckenridge, TX, December 1978-1979.
- Registered as N49092.
Robert F. Yancy, Klamath Falls, OR, July 4, 1980-1988.
- Flew as USN/S-101/Old Blue.
Doug Arnold/Warbirds Of GB Ltd., Biggin Hill, January 1988-1990.
- Shipped to UK, arriving Biggin Hill, February 19, 1988.
- Returned to Fort Lauderdale, FL for sale, March 1992.
ISRMS Inc, Land-O-Lakes, FL, June 1992.
Cavanaugh Flight Museum
, Addison, TX, August 5, 1994-1999.
- Flew as USN/97280/N206.
- Destroyed in ground collision with Bearcat (See Below), July 27, 1999.
---
Wreckage reported sold and stored pending descision on rebuild, 2001-2002.
* Also reported as FAH 619 which is apparently not a valid number.
---
NTSB Identification: CHI99FA266A
Accident occurred Thursday, July 29, 1999 in OSHKOSH, WI
Probable Cause Approval Date: 06/22/2000
Aircraft: Chance Vought F4U-4, registration: N712RD
Injuries: 1 Serious,1 Minor,1 Uninjured.
The three airplanes were part of a formation demonstration flight of eight World War II Navy fighters, divided into four sections of two airplanes each, that had been cleared to takeoff from runway 18 at Wittman Regional Airport, Oshkosh, Wisconsin, during the annual Experimental Aircraft Association (EAA) convention, 'AirVenture 99'. Air traffic control clearance for the departing aircraft had been relinquished from the FAA tower to a local 'air boss'. The air boss had cleared all of the airplanes to takeoff as a flight. Witnesses saw the lead airplane, a Bearcat, N14HP, and his wingman, taxi down runway 18 approximately 1,400 feet, turn toward the southwest and stop. Approximately 4 seconds later, the lead airplane in the second section, a Corsair, N712RD, collided into N14HP severing the Corsair's left wing, and the Bearcat's right wing. The Corsair continued down the runway, rolling over on it's left side, came apart, and burst into flames. The remains of the Corsair came to rest in a field east of the runway, approximately 2,000 feet down. The Bearcat was turned approximately 180 degrees and came to rest on the runway's east edge. A second Corsair, the wingman of N712RD, veered off of the west side of runway 18, sustaining substantial damage to it's left wing. Examination of all three airplanes revealed no anomalies.
The National Transportation Safety Board determines the probable cause(s) of this accident as follows:
The pilot not following the instructions briefed by the formation leader, and the pilot not maintaining clearance from the formation lead airplane. A factor relating to this accident was the area of restricted visibility in front of the pilot when the airplane sits on its tailwheel.

---
Source(s):
Chapman, John & Goodall, Geoff, Edited by Paul Coggan - Warbirds Directory,Warbirds Worldwide Ltd., Mansfield, England, 1989.
Goodall, Geoff - Warbirds Directory-4th Edition, 2003.
NTSB

Photo Source(s):
Unknown.
FMAH Collection


---

Research Assistance:
None

---
WARBIRD REGISTRY
>
CORSAIR REGISTRY
>
PREVIOUS PAGE
---