---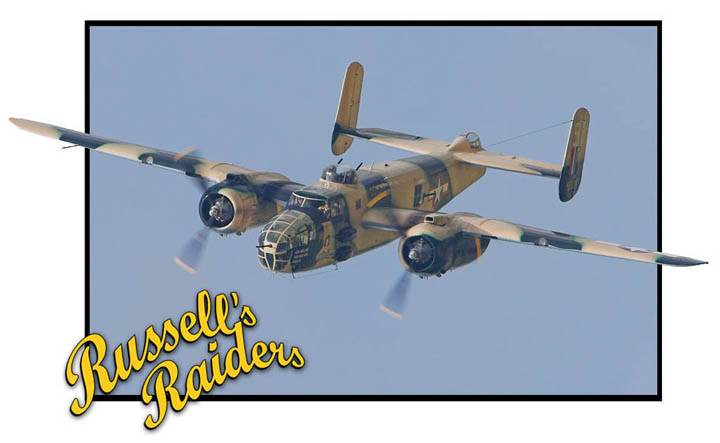 ---
---
Serial #: 45-8811
Construction #:
108-47562
Civil Registration:
N9621C
Model(s): B-25J
Name: Russell's Raider
Status: Airworthy
Last info: 2006

History:
Delivered to USAAF as 45-8811, 19??.
- Stored, Davis Monthan AFB, AZ, 1958.
O.H. Hine/Maricopa Dust & Spray, Maricopa, AZ, June 13, 1958.
- Registered as N9621C.
James E. Dimmettee/Dallas Aero Service, Dallas, TX, Sept. 1959-1961.
- Operated for Texas Instruments.
- Bombay fitted with testing avionics and infra-red scanner, June 1960.
V.C. Arnspleger, Dallas, TX, Sept. 1961-1962.
C.M. Stephenson/Air Traders Inc, Miami, FL, Jan. 1962-1966.
Richard Lloyd, Miami, FL, Oct. 1966-1970.
Antonio Rodriguez, San Juan, PR, Feb. 1970-1972.
Uriel Bristol, St. Croix, USVI, Oct. 1972-1976.
Seagull Enterprises, Christiansted, USVI, Jan. 1976-1978.
Harry S. Doan/Doan Helicopter Inc, Daytona Beach, FL, Mar. 1978-1991.
- Delivered from St. Croix to Daytona Beach, FL, 1980.
- Restored to airworthy, first flight Feb. 1982.
- Flew in camoflage as "HD".
World Jet Inc, Fort Lauderdale, FL, 1991.
Flying Eagles Inc, Wilmington, DE, 1991.
Apache Aviation, Dijon, France, May 1991-1992.
- Operated by Flying Legends, Dijon.
Franklin Devaux/Lafayette Aviation/Flying Legends, Dijon-Longvic, Sept. 1, 1992-2002.
- Registered as F-AZID.
Aiject Ltd, Switzerland, 2004-2006.
- Operated by Semalog SA flight: Jet Alpine Fighter.

---
Source(s):
Chapman, John & Goodall, Geoff, Edited by Paul Coggan - Warbirds Directory,Warbirds Worldwide Ltd., Mansfield, England, 1989.
Goodall, Geoff - Warbirds Directory-4th Edition, 2003.
Photo Source(s):
ste.
Caz Caswell.
Stephane Brugnolo