---
WARBIRD REGISTRY
>
B-25 MITCHELL REGISTRY
>
PREVIOUS PAGE
---
B-25 MITCHELL/44-30324
---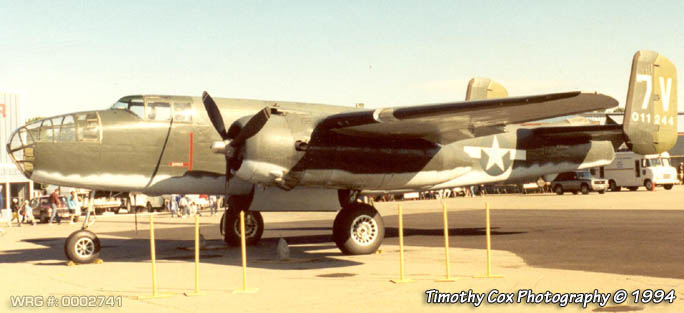 ---

---
Serial #: 44-30324
Construction #:
108-33599
Civil Registry:
N3161G

Model(s):
B-25J Mitchell
TB-25J Mitchell
TB-25N Mitchell
Status: Stored
Last Info: 2012

---
History:
Delivered to U.S. Army Air Force as 44-30324.
-
BOC:
N/A
-
SOC:
December 1957.
- Davis Monthan AFB, AZ, 1957-1958
Aviation Rental Service, St. Paul, MN, October 8, 1958-1965.
- Registered as N3161G.
- Stored unconverted, 1958-1965.
- C of A issued, June 1965.
Milford O. Gillett, St. Paul, MN, July 1965-1967.
Robert J. McManus, St. Paul, MN, November 1967-1969.
Lynn L. Florey & Donald W. Ericson/Archaeopteryx Corp, Minneapolis, MN, October 1969-1978.
- Flew as United States Air Force "I See no problem".
Red Stevenson/Red S Aircraft Sales, Leonard, OK, January 1978-1979.
John P. Silberman, Tampa, FL, March 1979-1981.
Dave Tallichet/Military Aircraft Restoration Corp, Chino, CA, April 1981-2002.
- Loaned to Empire State Aerosciences Museum, Schnectedy County Airport, NY, 1995-1996.
MAPS Air Museum
, Akron, OH, 2003-2007.
- Loaned from MARC.
Ken McBride
, San Martin, CA, 2007-2012.
- Ferried from OH to CA, 2008.
- Stored at Wings of History museum, San Martin, CA awaiting restoration.
---
Source(s):
Source(s):
Chapman, John & Goodall, Geoff, Edited by Paul Coggan - Warbirds Directory,Warbirds Worldwide Ltd., Mansfield, England, 1989.
Goodall, Geoff - Warbirds Directory-4th Edition, 2003.
Federal Aviation Administration, 2012.

Photo Source(s):
Timothy Cox Photography.
Gary Haught via MAPS Air Museum, 2003


---

Research Assistance:
Jeff Sharpe

---
WARBIRD REGISTRY
>
B-25 MITCHELL REGISTRY
>
PREVIOUS PAGE
---