Serial #: 44-29507
Construction #:
108-32782
Civil Registration:
N3698G
PH-XXV
N320SQ
Model(s):
B-25J
TB-25J
CB-25J
VB-25J
VB-25N
Name: Sarinah
Status: Airworthy
Last Info: 2002

---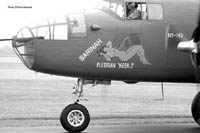 History:
Delivered to USAAF as 44-29507, 19??.
- Stored at Davis Monthan AFB, AZ, Aug. 1958.
Fogle Aircraft Inc, Tucson, AZ, July 27, 1959.
- Registered as N3698G.
Aero Enterprises, Elkhart, IN, Nov. 1959-1962.
Verco Tropical Fisheries, Columbus, OH, Mar. 1962-1966.
- Modified with cargo hold fitted to bombay, Michigan City, IN, Dec. 1962.
Robert R. Johnson, Fort Lauderdale, FL, Feb. 1966.
Austin Williams, West Palm Beach, FL, 1968-1972.
Ernest G. Trapaga, Redondo Beach, CA, July 1972-1974.
I.N. "Junior" Burchinall, Paris, TX, Sept. 1974-1979.
Rayez Adeline/Reyline Aviation, Kissimee, FL, Nov. 1979-1981.
Donald R. Webber/Aerial Solutions Inc, Baton Rouge, LA, June 1981-1989.
- Flew as "Cochise".
Duke Of Brabant Air Force, Netherlands, June 6, 1989.
Amho Corp, Wilmington, DE, Dec. 1989-2002.
- Registered as N320SQ.
- Registration PH-XXV reserved but not taken up.
- Operated by Duke Of Brabant Air Force, Eindoven, Netherlands
- Arrived Eindhoven, May 25, 1990.
- Flew as RAF/HD346/ND-V/"Lotys II".
- Currently flown as HD346/ND-V/Sarinah.