B-17 FLYING FORTRESS/44-85778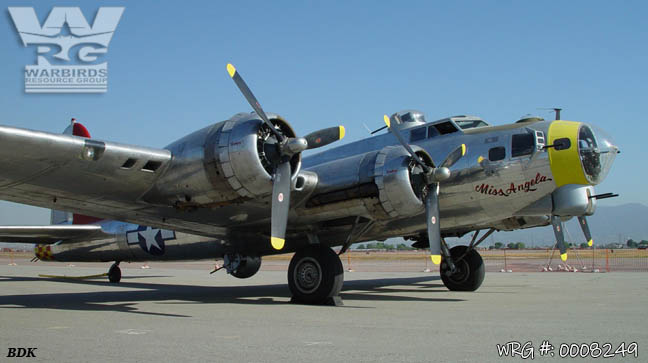 Serial #: 44-85778
Construction #:
8687 (-VE)
Civil Registration:
N3509G

Model(s):
B-17G-105-VE Flying Fortress
TB-17G Flying Fortress
VB-17G Flying Fortress
Name: Miss Angela
Status: Airworthy
Last info: 2019

History:
Delivered to USAAF as 44-58778.
Accepted at Dallas, TX.
BOC: June 6, 1945.
SOC: N/A.
Assigned to South Plains Army Airfield, TX, September 6, 1945.
Transferred to the 48th Search and Rescue Group, 19??.
Transferred to the 24th Composite Group, Puerto Rico.

Converted as TB-17G trainer.

Transferred to United States Air Force, September 18, 1947.
Sent to Brazil as part of the U.S. Brazilian Command, 1948

Converted to VB-17G staff transport.

Transferred to 1100th Operations Group, Bolling Field, Washington, DC, 1954.
Transferred to Davis-Monthan AFB, AZ, for storage, 1956.
Ace Smelting Inc, Phoenix, AZ, August 14, 1959.
Registered as N3509G.
Used as corporate aircraft.
Sonora Flying Service, Columbia, CA, September 20, 1960-1961.
Leo J. Demers, Madras, OR, May 25, 1961-1966.
Aero Union Corp, Chico, CA, April 29, 1966-1972.
William A. Dempsay/Central Air Service, Rantoul, KS, June 2, 1972-1978.
Flew as Tanker #42, #42, #102.
Western Air Contractors, American Fork, UT, July 6, 1978-1981.
Westernair of Albuquerque, Albuquerque, NM, June 16, 1981-1982.
Richard Vartanian/Aircraft Component Equipment Supplies, Inc, Klamath Falls, OR, March 28, 1982-1990.
Stored Stockton, CA, 1984-1990.
Arthur W. McDonnel, Mojave, CA, July, 1990.
Florida Aircraft Leasing Corp, Miami, FL, February 1991.
Robert L. Waltrip/Lone Star Flight Museum, Galveston, TX & Don Whittington/World Jet International, Fort Lauderdale, FL, April 1991-1992.
Flew as 4485778/Miss Museum Of Flying.
Warbirds Of Great Britain, Bournemouth, October 1992.
Palm Springs Air Museum
, Palm Springs, CA, 1993-2019.
Photo Source(s):
Ron Olsen.
Chris Farmer.
Chuck Gardner
Glenn Chatfield.

---
Research Assistance:
Glenn Chatfield