B-17 FLYING FORTRESS/44-83316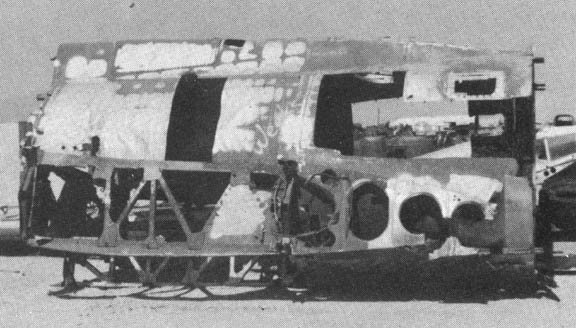 Scholl Ranch, Borrego Springs, CA, 1989.
Serial #: 44-83316
Construction #:
31957 (-DL)
Civil Registration:
None

Model(s):
B-17G Flying Fortress
VB-17G Flying Fortress
Name: None
Status: Partial Airframe
Last info: 2012

History:
Delivered to USAAF as 44-83316, 19??.
- Retired to David-Monthan AFB, AZ, December 1956-1959.
- Delivered to Norton AFB, CA, Apr. 1959-1964.
-- Stored for planned museum.
20th Century Fox Studios, 1964-1966.
- Dismantled.
- Fuselage used as film prop for TV series
12 O'Clock High
as 11868, Chino, CA
- Badly damaged by Special F/X, 1966.
Black Hills Aviation, Spearfish, SD, circa 1967.
- Forward fuselage used to rebuild B-17 N6694C.
Weeks Air Museum, Tamiami, FL, circa 1983-2001.
- Fuselage sections stored at Aero Trader, Ocotillo Wells, CA.
Some parts possibly used in composite B-17 diorama, Fantasy of Flight, Polk City, FL.
Remaining parts being used in rstoration of 44-85813/Champaign Lady
, 2012
Source(s):
Chapman, John & Goodall, Geoff, Edited by Paul Coggan - Warbirds Directory,Warbirds Worldwide Ltd., Mansfield, England, 1989.
Goodall, Geoff - Warbirds Directory-4th Edition, 2003.

Photo Source(s):
-

---
Research Assistance:
Pat Carry