---
WARBIRD REGISTRY
>
B-17 FLYING FORTRESS
>
PREVIOUS PAGE
---
B-17 FLYING FORTRESS/42-102446
---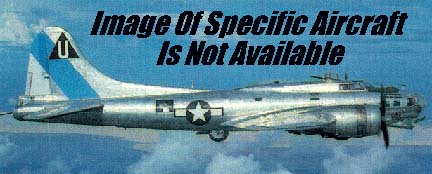 ---
Serial #: 42-102446
Construction #: -
Civil Registration: None
Model: B-17G-50-BO Flying Fortress

Name: Little Chub
Status: Scrapped
Last info: 1954

---
History:
Delivered to USAAF as 42-102446, 19??.
- Assigned to 384th BG/545th BS.
- Flew as JD*M/
Little Chub
.
- Badly shot up while en route to bomb the Dornier-Werke GMBH Aircraft Plant
in Oberpfaffenhofen, Germany by German fighters over Stuttgart, April 24, 1944.
- Having suffered heavy damage, crew diverted to Switzerland.
-- Shot up by Swiss AF Bf 109 fighters who engaged after 446 failed to heed instructions,
Swiss pilots unaware that the B-17 was incapapble of turning due to damage.
-- Ditched into Lake Greifensee, in northern Switzerland.
-- Six of the crew were fatally injured, 4 survived. MACR 4347 (Missing Aircrew Report)
Martin Shaffner, Switzerland, 1953.
- Raised aircraft on July 9, 1953.
- Exhibited at Maur through end of 1953.
- Moved to Zurich.
- Scrapped, 1954
---
---
WARBIRD REGISTRY
>
B-17 FLYING FORTRESS
>
PREVIOUS PAGE
---