TBM AVENGER/Bu. 91714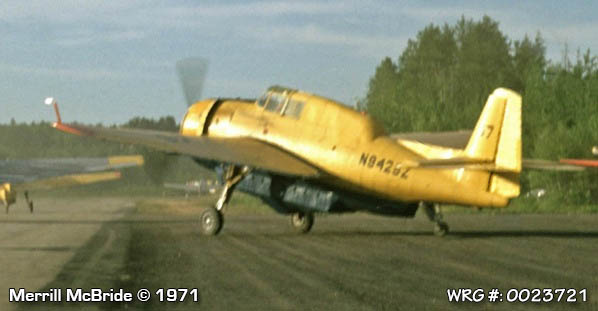 TBM #57 N9429Z taxiing to the pits from the parking area for loading, 1971, Dunphy, NB.
(Merrill McBride collection).
---
Bureau #: 91714
Construction #: 4619
Civil Registration(s):
N9429Z

Model(s):
TBM-3E Avenger
Name: None
Status: Unknown
Last info: 2018

History:
Delivered to the United states Navy as Bu. 91714.
Reeder Flying Service, Twin Falls, ID, 1962-1984.
Registered as N9429Z.
Flown as tanker #E51 (later #D12, #57).
Charles T. Reeder, Twin Falls, ID, 1988-1991.
Jack S. Miller, Buchanan, TN, June 29, 1991-1999.
Edward R. Miller, Buchanan, TC, January 14, 1999.
Wes Stricker, Columbia, MO, December 2, 1999-2018.
Source(s):
Chapman, John & Goodall, Geoff, Edited by Paul Coggan - Warbirds Directory,Warbirds Worldwide Ltd., Mansfield, England, 1989.
Goodall, Geoff - Warbirds Directory-4th Edition, 2003.

Photo Source(s):
Merrill McBride via Chris Adams

---
Research Assistance:
-