TBM AVENGER/Bu. 91586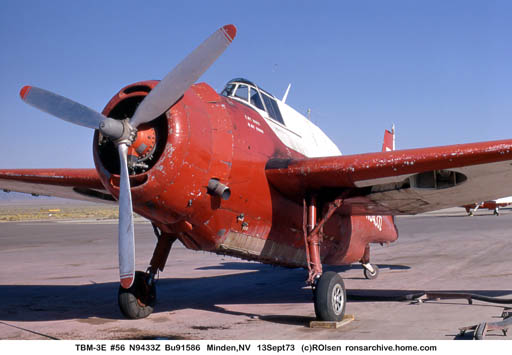 ---
Bureau #: 91586
Construction #: 4491
Civil Registration(s):
N9433Z

Model(s):
TBM-3E Avenger
Name: None
Status: Display
Last info: 2019

History:
Delivered to the United States Navy as Bu. 91586.
Sonora Flying Service, Columbia, CA, 1963-1964.
Registered as N9433Z.
Flew as tanker #C56.
Sonora Aviation Inc, Tucson/Carson City, NV, 1966-1969.
Damaged during wheels up landing, Carson City, NV, May 27, 1967.
Capitol Aire Inc, Carson City, NV, 1970-1972.
Craig Aero Service, Buttonwillow, CA, 1977.
Stewart Aviation, Moses Lake, WA, 1977-1984.
Northwest Warbirds Inc, Kimberly, ID, 1986.
Friends Of Long Island Heritage, Muttontown, NY, 1987-1991.
Restored for static display by Grumman, Bethpage, NY, 1988-1990.
Cradle Of Aviation Museum
, Garden City, NY, 1991-2019.
Displayed as VMTB-624/"113".
Source(s):
Chapman, John & Goodall, Geoff, Edited by Paul Coggan - Warbirds Directory,Warbirds Worldwide Ltd., Mansfield, England, 1989.
Goodall, Geoff - Warbirds Directory-4th Edition, 2003.