TBM AVENGER/Bu. 91521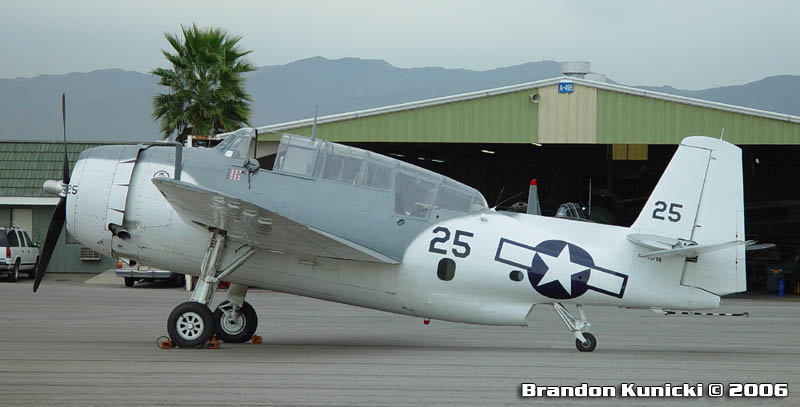 ---
Bureau #: 91521
Construction #:
4426
Civil Registration(s):
N4171A

Model(s):
TBM-3E Avenger
Name: None
Status (2006): Airworthy (2017)
Last info: 2019

History:
Delivered to the United States Navy as Bu. 91521.
Reeder Flying Service, Twin Falls, ID, 1963-1972.
Registered as N4171A.
Flown as tanker #D11 (later #11).
Louis Deterding, Havre, MT, 1977.
Donald J. von Siegel, Parkin, AR, 1984-1987.
Corwin H. "Corky" Meyer, Ocala, FL, 1988-1994.
Fuselage destroyed by fire during restoration, 1989.
Rebuild completed using fuselage from Bu. 53489.
First flight, May 5, 1994.
Flew as USN/25.
Stephen M. Hay, Lansing, IL (later Syracuse, IN and Tucson, AZ), 1994-1998.
Wawasee Airport Inc, Syracuse, IN, April 28, 1998-1999.
Northern Indiana Aviation Museum, Goshen, IN, 1999-2002.
Freeberg Family LLP, Escondido, CA, February 2003-2008.
TBM Avenger LLC
, Huntington, IN, January 2017-2019.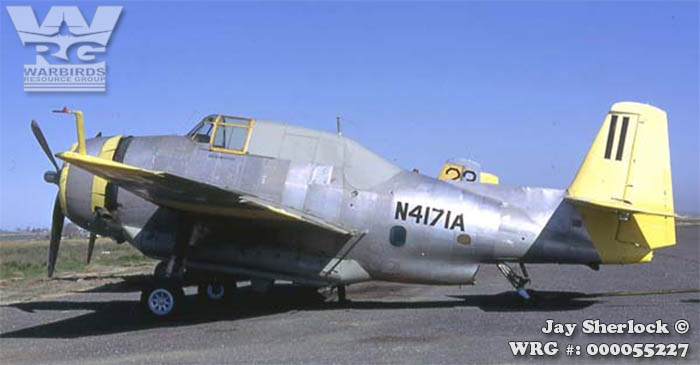 Source(s):
Chapman, John & Goodall, Geoff, Edited by Paul Coggan -
Warbirds Directory
,Warbirds Worldwide Ltd., Mansfield, England, 1989.
Goodall, Geoff -
Warbirds Directory-4th Edition
, 2003.
Federal Aviation Administration
.
Photo Source(s):
Brandon Kunicki
Jay Sherlock via Christopher Adam.

---
Research Assistance:
Christopher Adam