AVENGER/Bu. 85665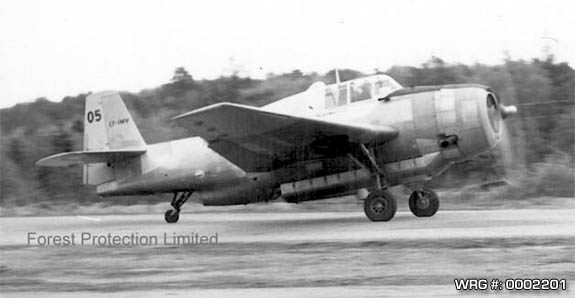 ---
Bureau #: 85665
Construction #: 2484
Civil Registration(s):
CF-IMV
C-FIMV

Model(s):
TBM-3S Avenger
Avenger AS Mk. 3 Avenger
Name: None
Status: Crashed
Last info: 1977

History:
Delivered to Royal Canadian Navy as #322.
Registered as CF-IMV.
Converted to sprayer by Fairey Aviation, Sartmouth, NS.
Flew as #505.
Wheeler Northland Airways Ltd, St. Jean, Quebec, 1966-1970.
Evergreen Air Service, Roxboro, Quebec, 1972-1975.
Forest Protection Ltd, Fredericton, NB, 1976-1977.
Registered as C-FIMV.
Crashed during spraying operation, Blissville, NB, June 9, 1977.
Source(s):
Chapman, John & Goodall, Geoff, Edited by Paul Coggan - Warbirds Directory,Warbirds Worldwide Ltd., Mansfield, England, 1989.
Goodall, Geoff - Warbirds Directory-4th Edition, 2003.