TBM AVENGER/Bu. 85460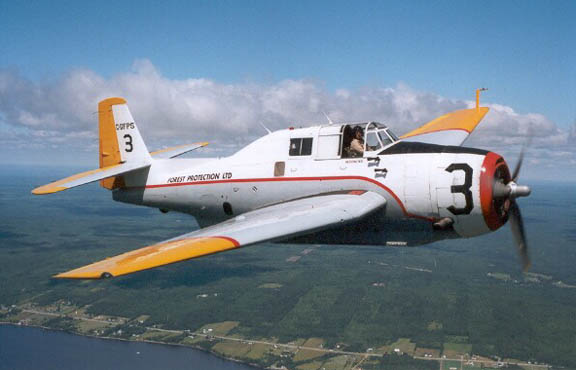 ---
Bureau #: 85460
Construction #: 2279
Civil Registration(s):
N7032C
C-GFPS

Model(s):
TBM-3S Avenger
AS Mk. 3 Avenger
Name: None
Status: Airworthy
Last info: 2005

History:
Delivered to the United states Navy as Bu. 85460.
Delivered to Royal Canadian Navy as 85460.
Registered as N7032C
Crashed on take-off, Idaho City, ID, July 9, 1961.
Richardson Aviation, Yakima, WA, 1963-1972.
Leased to Marom Ltd, Herzelia, Israel, 1967.

Tree spraying contract, Greece, 1968.
Hillcrest Aircraft, Lewiston, ID, 1976.
Flew as #112.
Leased to Evergreen Air Service, Roxboro, Quebec.
Forest Protection Ltd
, Fredericton (later Chatham), New Brunswick, May 1976-2004.
Registered as C-GFPS.
Flown as tanker #E32, later #3.
FEW TBMS LLC
, Rio Grande, NJ, January 18, 2005.
Source(s):
Chapman, John & Goodall, Geoff, Edited by Paul Coggan -
Warbirds Directory
,Warbirds Worldwide Ltd., Mansfield, England, 1989.
Goodall, Geoff -
Warbirds Directory-4th Edition
, 2003.
Federal Aviation Administration
, www.faa.gov, Washington D.C., 2005.