TBM AVENGER/Bu. 53554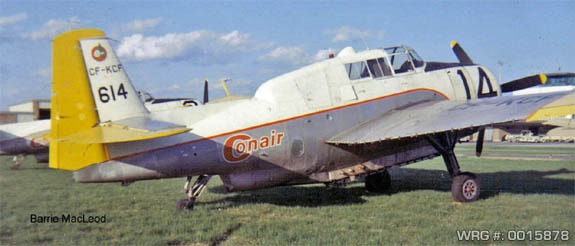 ---
Bureau #: 53554
Construction #:
3616
Civil Registration(s):
CF-KCF

Model(s):
TBM-3S Avenger
Avenger AS Mk. 3M Avenger
Name: None
Status: Crashed
Last info: 1971

History:
Delivered to United States Navy as Bu. 53554, 19??.
Delivered to Royal Canadian Navy as 53554.
Registered as CF-KCF.
Flew as tanker #614.
Conair Aviation Ltd, Abbotsford, BC, 1969-1971.
Flew as tanker #614.
Crashed, Winfield, BC, August 8, 1971.
Source(s):
Chapman, John & Goodall, Geoff, Edited by Paul Coggan - Warbirds Directory,Warbirds Worldwide Ltd., Mansfield, England, 1989.