---
WARBIRD REGISTRY
>
INVADER REGISTRY
>
PREVIOUS PAGE
---
INVADER/44-35725
---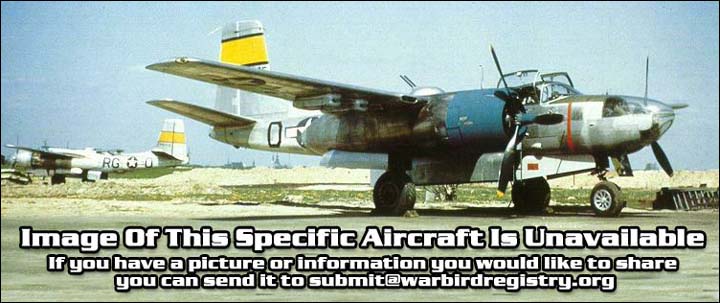 ---
Serial #: 44-35725
Construction #: 29004
Civil Registration:
N800W
N26RP

Model(s):
A-26C Invader
RB-26C Invader
B-26C Invader
Name: None
Status: Unknown
Last info: 1976

---
History:
James M. Cook, Jacksboro, TX, 1963-1964.
- Registered as N800W.
US Department of Commerce, Washington DC, 1964-1969.
- Modified by On Mark with covert ops modifications with tip tanks.
- Flew with dual registrations N800W/N35725.
MASDC, Davis-Monthan AFB, Tucson, AZ, 1965-1976.
- Stored as N800W/35725.
Allied Aircraft Inc, Tucson, AZ, April 2, 1976.
- Delivered from MASDC.
---
Source(s):
Chapman, John & Goodall, Geoff, Edited by Paul Coggan - Warbirds Directory,Warbirds Worldwide Ltd., Mansfield, England, 1989.
Goodall, Geoff - Warbirds Directory-4th Edition, 2003.

Photo Source(s):
None.

---
WARBIRD REGISTRY
>
INVADER REGISTRY
>
PREVIOUS PAGE
---