---
WARBIRD REGISTRY
>
INVADER REGISTRY
>
PREVIOUS PAGE
---
INVADER/44-35505
---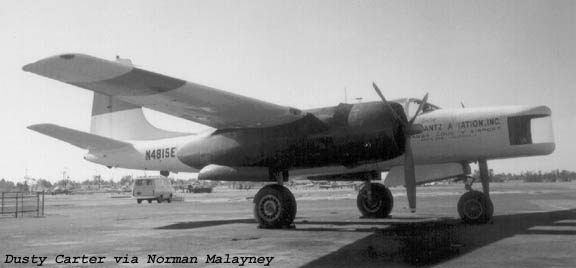 ---
Serial #: 44-35505
Construction #: 28784
Civil Registration:
N4815E
N26RP

Model(s):
A-26C Invader
B-26C Invader
Name: None
Status: Stored
Last info: 2001

---
History:
Rock Island Oil & Refining Co, Wichita, KS, 1960
- Registered as N4815E.
- Planned conversion to Monarch 26 not completed.
Tallmantz Aviation Inc, Orange County, CA, 1963-1976.
- Modified with lengthened nose for Cinerama Cameras.
Albert Redick, Chino, CA, 1977
On Mark Aviation, Knoxville, TN, 1978.
Rose Diehl, Chino, CA, 19??.
Sold, reported flown on drug run to South america, impounded on return to USA.
John MacGuire/War Eagles Air Museum
, Santa Teresa, NM, 1990-2001.
---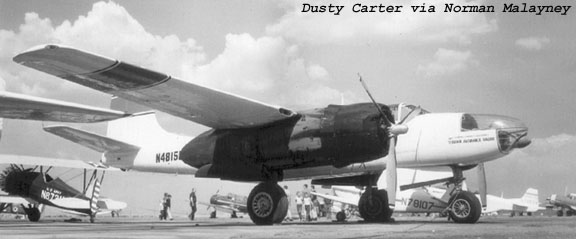 ---
Source(s):
Chapman, John & Goodall, Geoff, Edited by Paul Coggan - Warbirds Directory,Warbirds Worldwide Ltd., Mansfield, England, 1989.
Goodall, Geoff - Warbirds Directory-4th Edition, 2003.

Photo Source(s):
Dusty Carter via Norman Malayney

---
WARBIRD REGISTRY
>
INVADER REGISTRY
>
PREVIOUS PAGE
---