INVADER/44-35326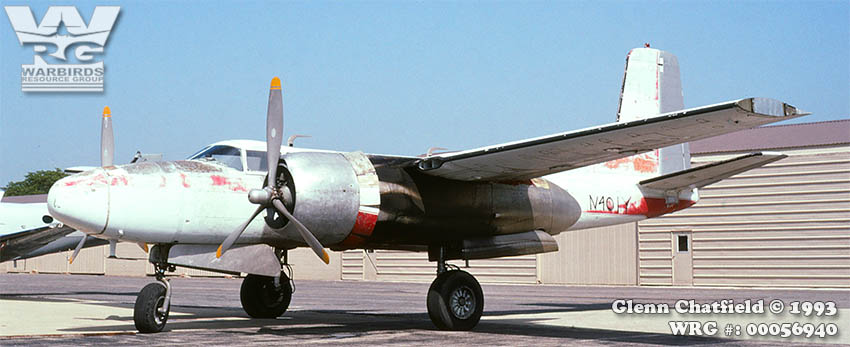 Model(s):
A-26C Invader
B-26C Invader
On Mark Marketeer
Name: None
Status: Displayed
Last info: 2019

History:
Delivered to United States Army Air Force as 44-35326.
BOC: February 1945.
Allocated to the RAF as KL706.
Sent to Modification Center, Tulsa, OK, for modification for RAF, March 4, 1945.

While there it was diverted back to USAAF.

Transferred to the Sacramento Air Technical Service Center, May 26, 1945.
Flown to Phoenix, AZ, for delivery to the Navy, not accepted by USN, August 22, 1945.
Transferred to United States Air force, September 18, 1947
Redesignated B-26C, June 1948.
Transferred to Hill AFB, UT for disposal, May 1956.
On Mark Engineering, Van Nuys, CA, May 1956.
Registered as N2889D.
Re-registered N40Y, 1957.
Converted as the prototype Marketeer executive aircraft.
Youngstown Sheet & Tube Company, Youngstown, OH, 1957.
Registered as N401Y, 1960.
Both Leasing Corp., San Francisco, CA, 1963-1966.
Business Aircraft Lessors, Elyria, OH, 1969-1970.
Active Air Inc, Wakeman, OH, 1977.
George J. Rivera, San Jose, CA, 1981-1984.
Endless Turn Inc, Leoti, KS, 1987-1988.
Stallion Aircraft, Bensenville, IL, May 1990-1993.
Jack Rodgers/Air Classics Aircraft Museum, Chicago-Du Page, IL, 1993-1996.
Restored to airworthy, 1995.
Air Classics Inc, Chicago, IL, January 17, 1997-1999.
Last flew, May 1998.
Parked, Rockford, IL, 1998-2001.
Courtesy Aircraft Inc, Rockford, IL, June 15, 1999-2000.
Keith Taurman/Tidewater Wings Inc, Virginia Beach, VA, December 1999-2002.
Under restoration, Rockford, IL, 2000-2002.
Marked as 435326/BC-326.
Indiana Military Museum
, Vincennes, IN, August 2011-2019.
Trucked from Rockford, IL, to the Indiana Military Museum.
Restored in overall silver WWII markings for static display.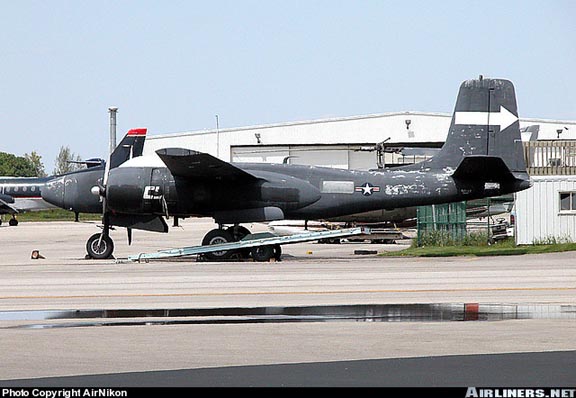 Source(s):
Chapman, John & Goodall, Geoff, Edited by Paul Coggan - Warbirds Directory,Warbirds Worldwide Ltd., Mansfield, England, 1989.
Goodall, Geoff - Warbirds Directory-4th Edition, 2003.

Photo Source(s):
AirNikon via Airliners.net.
Glenn Chatfield.

---
Research Assistance:
Paul Cooper/Cooper's Aviation