---
WARBIRD REGISTRY
>
INVADER REGISTRY
>
PREVIOUS PAGE
---
INVADER/44-34749
---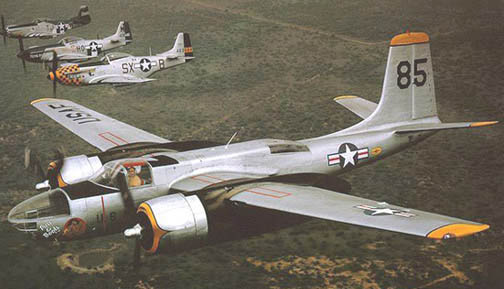 ---
Serial #: 44-34749
Construction #: 28028
Civil Registration:
N4823E
N4959K
N26RP

Model(s):
A-26B Invader
B-26B Invader
B-26C Invader
Name: Puss In Boots
Status: Airworthy
Last info: 2002

---
History:
Rock Island Oil & Refining Co, Wichita, KS, 1960-1966.
- Registered as N4823E.
- Planned conversion to Monarch 26 not completed.
Hamilton Aircraft, 1968-1969.
- Converted to B-26C standard.
Delivered to FA Brasiliera as B-26C/5174, June 1969-1975.
ESPAer, Sao aulo, Brazil, December 1975 - Instructional airframe, later derelict.
Don Davis/Tired Iron Inc, Casper, WY, September 1984.
- Ferried from Brazil to US, 1984.
- Rebuilt as "Puss In Boots".
Guarantee Federal Bank, Casper, WY, 1987.
Airplane Sales International, Beverly Hills, CA, August 1987-1988.
Abrams Airborne Manufacturing
, Tucson, AZ, October 1989-2002.
- Flew as USAF/85/Puss In Boots.
- Later flown as USAF/O-434749/BC-749/Puss In Boots.
---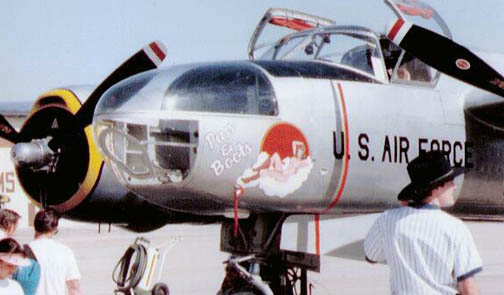 ---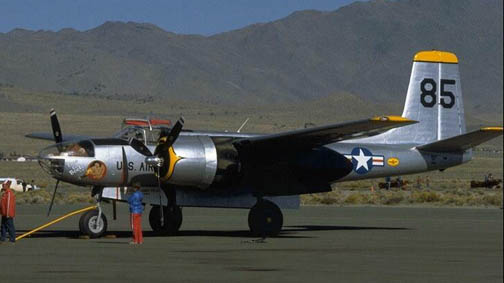 ---
Source(s):
Chapman, John & Goodall, Geoff, Edited by Paul Coggan - Warbirds Directory,Warbirds Worldwide Ltd., Mansfield, England, 1989.
Goodall, Geoff - Warbirds Directory-4th Edition, 2003.

Photo Source(s):
Unknown

---
WARBIRD REGISTRY > INVADER REGISTRY > PREVIOUS PAGE

---