A-26 INVADER/44-34567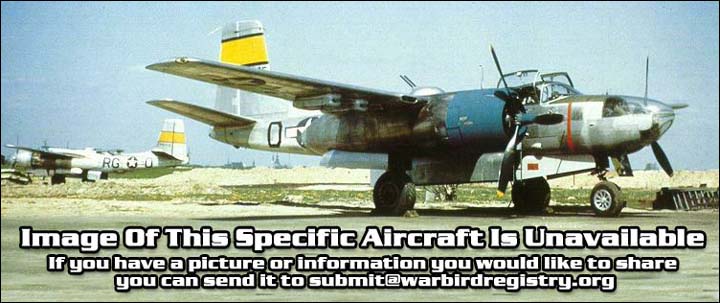 Serial #: 44-34567
Construction #: 27846
Civil Registration:
N9412Z
ZS-CVD
N26RP

Model(s):
A-26B Invader
On Mark Marksman
Name: None
Status: Stored
Last info: 1992

History:
Delivered to United States Army Air Force as 44-34567.
On Mark Engineering Co, Van Nuys, CA, November 9, 1960-1962
Rebuilt as On Mark Marksman at Van Nuys, CA.
Registered as N9412Z.
South African Iron & Steel Industrial Corp, Wonderboom, South Africa, February 27, 1962-1973
Registered as ZS-CVD.
Damaged in belly landing, Omaruru, January 13, 1971.
Withdrawn from use, 1976-1977.
Vern McWilliams, Durban, South Africa, 1977.
Acquired for engines and parts.
South African Air Force Museum
, Swatkop AB, South Africa, August 9, 1977-2008.
Stored in Museum storage Hanger, February 1982-2008.
Source(s):
Chapman, John & Goodall, Geoff, Edited by Paul Coggan -
Warbirds Directory
,Warbirds Worldwide Ltd., Mansfield, England, 1989.
Goodall, Geoff -
Warbirds Directory-4th Edition
, 2003.
Goodall, Geoff -
Warbirds Directory-6th Edition
, 2020.
Joe Baugher's Serial Numbers Page.
Photo Source(s):
None.

---
Research Assistance:
Robert Weenk