---
WARBIRD REGISTRY
>
INVADER REGISTRY
>
PREVIOUS PAGE
---
INVADER/44-34423
---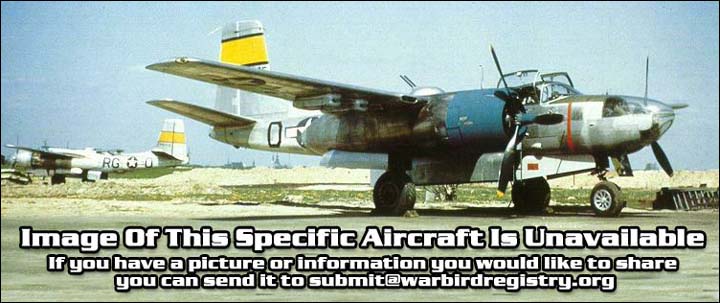 ---
Serial #: 44-34423
Construction #: 27702
Civil Registration:
N9594Z
C-GHLI
N26RP

Model(s):
A-26B Invader
B-26B Invader
B-26C Invader
On Mark (See History)
Name: None
Status: Display
Last info: 2002

---
History:
Delivered to USAF as 44-34423, 19??
- Stored at Davis Monthan AFB, AZ, July 1957.
Stahmann Farmes Inc, Las Cruces, NM, October 1960-1972
- Registered as N9594Z.
- Rebuilt (circa 1964) as long-ranged executive aircraft with wings and tip tanks from unidentified On Mark Marksman that had been damaged by fire, Phoenix, AZ.
Victor W. Newman, El Paso, TX, 1972-1974.
Conair Aviation Ltd., Abbotsford, BC, December 1974-1984.
- Registered as C-GHLI.
- Flew as tanker #329 (later #29).
- Damaged by ground fire (flames not AAA :), Williams Lake, BC, July 1, 1984.
Wreck stored in local scrapyard, 1986-1990.
Aero Nostalgia Inc, Stockton, CA, 1990.
- Static rebuild as A-26C for USAFM.
USAFM
, Fairchild AFB, WA, 1995-2002.
---
Source(s):
Chapman, John & Goodall, Geoff, Edited by Paul Coggan - Warbirds Directory,Warbirds Worldwide Ltd., Mansfield, England, 1989.
Goodall, Geoff - Warbirds Directory-4th Edition, 2003.

Photo Source(s):
None

---
WARBIRD REGISTRY
>
INVADER REGISTRY
>
PREVIOUS PAGE
---