---
WARBIRD REGISTRY
>
INVADER REGISTRY
>
PREVIOUS PAGE
---
INVADER/41-34134
---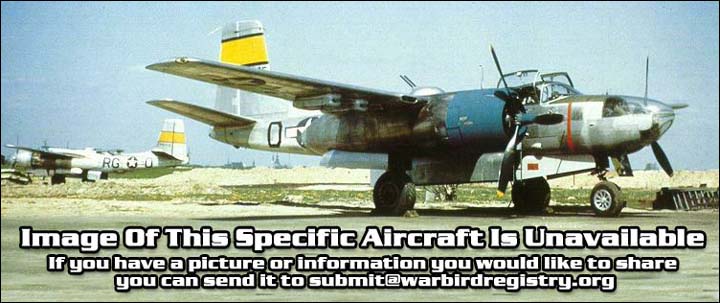 ---
Serial #: 44-34134
Construction #: 27413
Civil Registration:
N4974N
N115RG
N26RP

Model(s):
A-26B Invader
B-26B Invader
C-26B
Le Tourneau
Name: None
Status: Display
Last info: 1985

---
History:
Registered as N4974N by ??/, 19??.
R.G. Letourneau Inc, Longview, TX, 1954-1966.
- Registered as N115RG.
- Executive conversion to Le Tourneau B-26.
Sam Seaton, Fort Smith, AR, June 24, 1969-1970.
- Still On US Civil Register.
- Impounded while Drug Smuggling, Brasilia, Brazil, June 21, 1966-1975.
Transferred to FA Brasileira as FAB C-26B-5176.
Museu de Armes e Veiculos Motorizados Antigos
, Sao Paulo, Brazil, January 1975-1985.
---
Source(s):
Chapman, John & Goodall, Geoff, Edited by Paul Coggan - Warbirds Directory,Warbirds Worldwide Ltd., Mansfield, England, 1989.
Goodall, Geoff - Warbirds Directory-4th Edition, 2003.

Photo Source(s):
None

---
WARBIRD REGISTRY
>
INVADER REGISTRY
>
PREVIOUS PAGE
---