---
WARBIRD REGISTRY
>
INVADER REGISTRY
>
PREVIOUS PAGE
---
INVADER/43-22281
---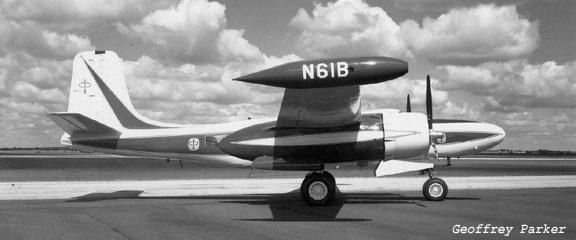 While owned/operated by The Parker Pen Company during the early-to mid- 1960s.

---
Serial #: 43-22281
Construction #: 18428
Civil Registration:
N94A
N61B
N26RP

Model(s):
A-26B Invader
B-26B Invader
Name: None
Status: Unknown
Last info: 1984

---
History:
Registered as N94A by ???, 19??.
Parker Pen Co., Janesville, WI, 1961-1963.
- Registered as N61B.
Kwiki Systems Inc, Leawood, KS, 1966.
On Mark Engineering Corp, Van Nuys, CA, 1969.
North American Rockeewell Corp, El Segundo, CA, 197-1977.
Sale reported, Miami, FL, 1984.
---
Thought to have crashed or been abandoned during drug smuggling operations.
---
Source(s):
Chapman, John & Goodall, Geoff, Edited by Paul Coggan - Warbirds Directory,Warbirds Worldwide Ltd., Mansfield, England, 1989.
Goodall, Geoff - Warbirds Directory-4th Edition, 2003.

Photo Source(s):
Geoffrey Parker.

---
WARBIRD REGISTRY
>
INVADER REGISTRY
>
PREVIOUS PAGE
---