---
WARBIRD REGISTRY
>
INVADER REGISTRY
>
PREVIOUS PAGE
---
INVADER/41-39303
---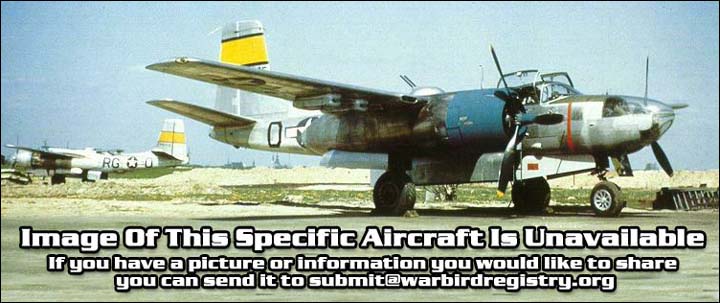 ---
Serial #: 41-39303
Construction #: 7016
Civil Registration:
N5589A
N26RP

Model(s):
A-26B Invader
B-26C Invader
Name:
City Of Santa Rosa
Status: Restoration
Last info: 2002

---
History:
W.C. Powell, Tereboro, NJ, 1958.
- Registered as N5589A.
Charles Woods Homes Inc, Dothan, AL, 1964-1966.
Alabama Institute Of Aviation Tech, Ozark, AL, 1969.
Paramount Inc, Atlanta, GA, 1970.
John M. Sliker, Wadley, GA, 1970-1972.
John J. Stokes/Central Texas Aviation, San Marcos, TX, 1977.
- Dismantled.
Lynch Air Tankers, Billings, MT, 1978-1992.
- Stored dismantled.
Pacific Coast Air Museum
, Santa Rosa, CA, 1993-2002.
- Trucked from Billings to Santa Rosa, 1992.
- Undergoing restoration.
- To be displayed as 44-34324/"City Of Santa Rosa".
---
Source(s):
Chapman, John & Goodall, Geoff, Edited by Paul Coggan - Warbirds Directory,Warbirds Worldwide Ltd., Mansfield, England, 1989.
Goodall, Geoff - Warbirds Directory-4th Edition, 2003.
Ron Stout.

Photo Source(s):
None

---
WARBIRD REGISTRY
>
INVADER REGISTRY
>
PREVIOUS PAGE
---