---
WARBIRD REGISTRY
>
INVADER REGISTRY
>
PREVIOUS PAGE
---
INVADER/41-39221
---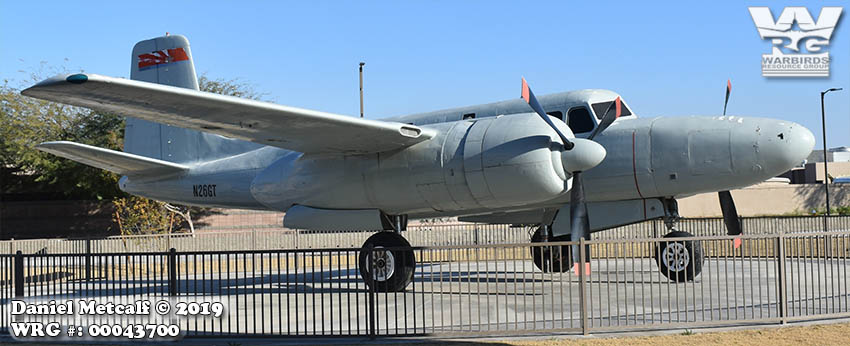 ---
Serial #: 41-39221
Construction #:
6934
Civil Registration:
N9636C
N3035S
N256H
N25GT
N26RP

Model(s):
A-26B Invader
B-26B Invader
Marksman
Name: None
Status: Display
Last info: 2019
Location: 33°23'46.9"N 112°03'46.0"W

---
History:
Delivered to U.S. Army Air Force as 41-39221.
Farrah Manufacturing Co Inc, 19??.
- Registered as N9636C.
Southern Natural Gas Co, Birmingham, AL, 1963-1966.
- Registered as N3035S (1).
Mapco Inc, Tulsa, OK, 1969.
- Registered as N256H (2).
Bancroft Manufacturing Co., McComb, MS, 1970-1972.
Park Meadow Inc/Ligon Air Inc, Ligonier, In.
Garret Corp, Phoenix, AZ, Circa 1979.
- Modified for testing turbine engine in nose.
Garret AiResearch Corp, Phoenix, AZ, April 1983-1988.
- Registered as N25GT.
- Used for engine testing.
Allied Signal Inc, Phoenix, AZ, December 1988-1992.
Struck-off USCR, January 10, 1992.
South Mountain High School
, Phoenix, AZ, 1992-2019.
- Donated to Aviation Technology program.
- Displayed.
---
Source(s):
Chapman, John & Goodall, Geoff, Edited by Paul Coggan - Warbirds Directory,Warbirds Worldwide Ltd., Mansfield, England, 1989.
Goodall, Geoff - Warbirds Directory-4th Edition, 2003.
Federal Aviation Administration, www.faa.gov, 2007.
Joe Baugher's Serial Numbers Page

Photo Source(s):
Daniel Metcalf


---

Research Assistance:
Mike Daftarian.

---
WARBIRD REGISTRY
>
INVADER REGISTRY
>
PREVIOUS PAGE
---