---
WARBIRD REGISTRY
>
A-20 HAVOC REGISTRY
>
PREVIOUS PAGE
---
A-20 Havoc/43-22217
---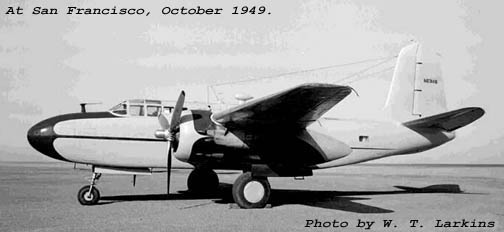 ---
Serial #: 43-22217
Construction #: 21864
Civil Registration:
NX63148
NL63148

Model(s):
A-20G-45-DO Havoc
Name: None
Status: Crashed
Last info: 1955

---
History:
Built by Douglas Aircraft, Santa Monica, CA, 1944.
Delivered to USAAF as 43-22217.
- BOC: June 10, 1944.
- Stored, McClellan Field, CA, June 1944-1945.
RFC, Cal-Aero Field, Chino, CA, October 1945.
- Ferried from McClellan to Chino for post-war disposal.
Hughes Tool Co, Culver City, CA, March 25, 1946-1949.
- Acquired for $3000.
- Registered as NX63148.
- Ferried from Chino to Culver City, Hughes Field, CA, April 1946.
- Converted to aerial testbed.
— Used to test radar & radio systems.
— Used to test tailplane for Hughes XF-11 project.
—– Tailplane mounted on rear fuselage, 1946.
- Reregistered as NL63148, December 28, 1947.
Paul B. Young, Oceanside, CA, August 15, 1949-1955.
- Modified to exectutive aircraft, Long Beach, CA, 1949.
— Added passenger seats and 5 new windows.
— Gun turret installation removed.
— Fitted with oxygen systems.
— P&W R-2600-23s replaced with R-2600-29s, July 1951.
— Rear fuselage deepened by raising roof, January 1953.
— Extra fuel tanks installed in bomb bay, January 1953.
– Loaned to Dianna Cyrus Bixby, 1954-1955.
— Crashed into sea in bad weather off Loreta, Baja California, Mexico, January 2, 1955.
— Pilot Dianna Bixby killed.
---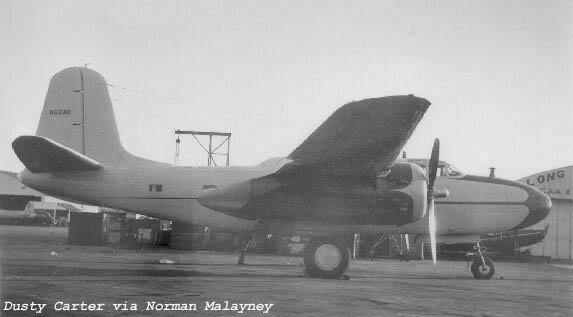 ---
---
WARBIRD REGISTRY
>
A-20 HAVOC REGISTRY
>
PREVIOUS PAGE
---