---
WARBIRD REGISTRY
>
SKYRAIDER REGISTRY
>
PREVIOUS PAGE
---
SKYRAIDER/Bu. 135188
---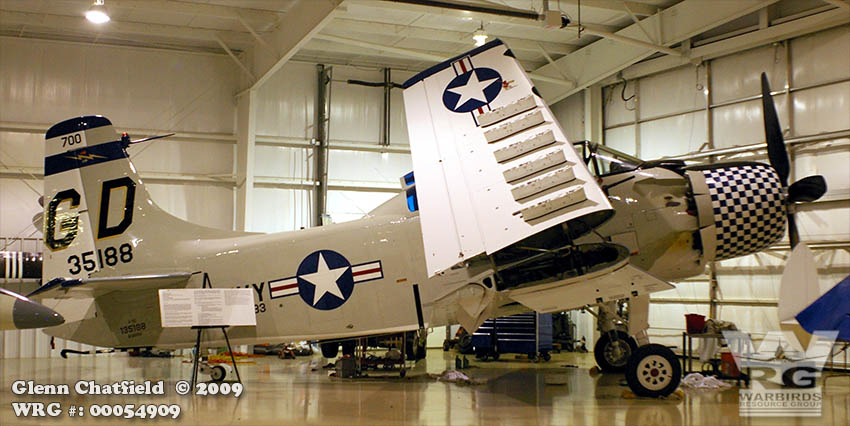 ---
Bureau #: 135188
Construction #: 10265
Civil Registration:
N188BP
N188RH

Model(s):
AD-5W Skyraider
EA-1E Skyraider
A-1E Skyraider
Name: None
Status: Airworthy
Last info: 2018

---
History:
Delivered to US Navy as Bu. 135188.
BOC: June 23, 1955.
Assigned to Composite Squadron 11 (VC-11), NAS North Island, CA, ???- December 1959.

Deployed aboard USS Wasp, USS Hornet, and USS Shangri La.
Coded as RR-7XX.

Transferred into storage at NAF Litchfield Park, AZ, December 12, 1959.
Redesignated as EA-1E.
SOC: March 1963.
Returned to service, 1965.
Assigned to Carrier Airborne Early Warning Squadron 33 (VAW-33), NAS Quonset Point, RI.

Deployed about USS Intrepid and USS Wasp.
Overhauled on USS Wasp, Radome removed.
Redesignated as A-1E.

Transferred to Attack Squadron 122 (VA-122) at NAS Lemoore, CA.

Deployed aboard the USS Kittyhawk.

Transferred to Tactical Electronic Warfare Squadron 33 (VAQ-33), NAS Quonset Point, RI by 1968.

Used as a utility and training aircraft.
Coded as GD-800, 1968
Coded as GD-700, 1970

Transferred into storage at the AMARC, Davis-Monthan AFB, AZ, February 1970.
SOC: February 5, 1970.
Transferred to NAS China Lake for open storage and use as a target, 1980.
Roy Stafford/Black Shadow Aviation, Jacksonville, FL, 1989.
Registered as NX188RH.
Transported by truck to Chino, CA, May 1989.
To be restored.
Robert J. Pond/Planes of Fame East, Minneapolis-Flying Cloud Airport, January 1990.
Registered as N188BP, February 1990.
Restoration begun.
Colors changed from grey Navy scheme to dark blue USMC scheme as Marines 21/BP.
First flight, July 8, 1991.
Robert Waltrip, Galveston, TX, April 1993.
Based it at the Lone Star Flight Museum.
Wally Fisk/Amjet Aircraft Corp., Saint Paul, MN, February 1994.
Olympic Flight Museum, Olympia, WA (possibly on loan?), July 4, 1998.
Olympic Jet Inc, Olympia, WA, March 13, 2001.
Brent Hisey/Hinsey Aviation, Oklahoma City, December 2006.
Registered as N188RH.
Based at the Wiley Post Airport.
Flown in grey Navy scheme.
Frank W. Dworak, Stow, MA, April 23, 2012.
Based with the Collings Foundation.
Skyraider A1E LLC, Rocky Hill, CT, August 16, 2012.
Quonset Air Museum at North Kingston, RI, ????.
Collings Foundation
, Stow, MA, January 16, 2018.
---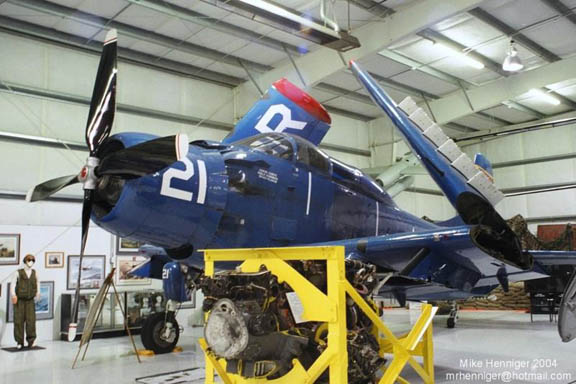 ---
Source(s):
Chapman, John & Goodall, Geoff, Edited by Paul Coggan - Warbirds Directory,Warbirds Worldwide Ltd., Mansfield, England, 1989.

Photo Source(s):
Glenn Chatfield
Mike Henniger
Research Assistance:
Glenn Chatfield

---
WARBIRD REGISTRY
>
SKYRAIDER REGISTRY
>
PREVIOUS PAGE
---