---
WARBIRD REGISTRY
>
SKYRAIDER REGISTRY
>
PREVIOUS PAGE
---
SKYRAIDER/Bu. 126935
---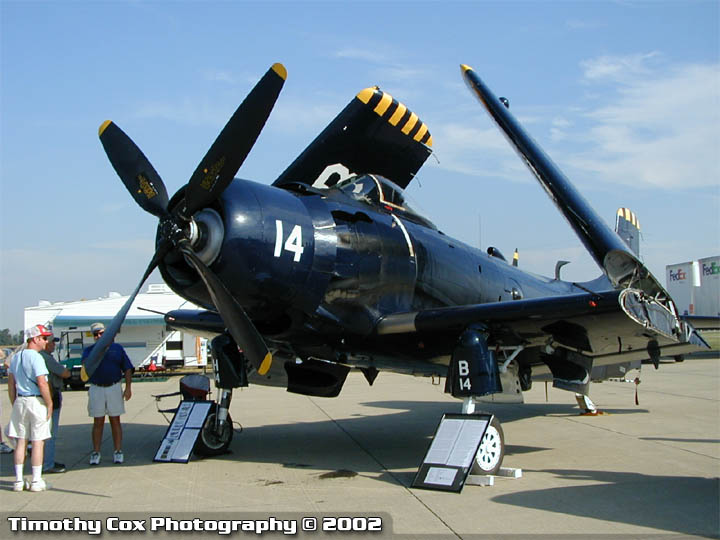 ---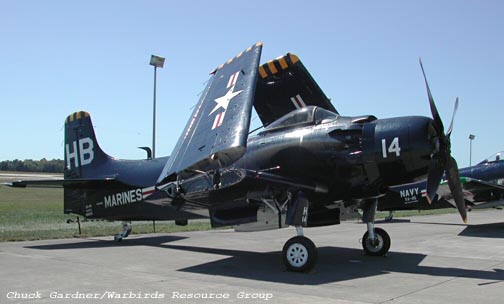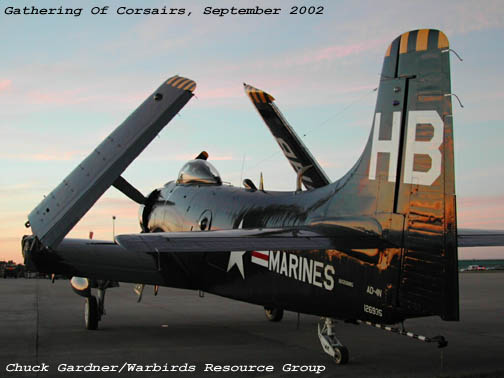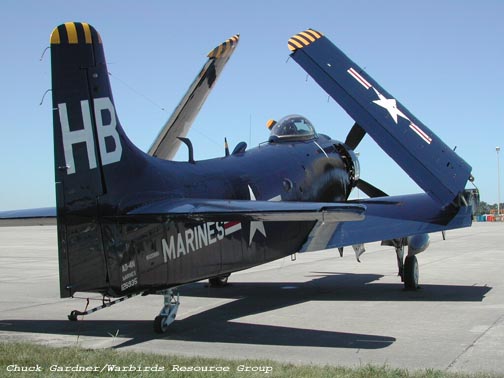 ---
Bureau #: 126935
Construction #:
7735
Civil Registration:
F-AZFO
N2088G

Model(s):
AD-4NA Skyraider
A-1D Skyraider
Name: None
Status: Destroyed
Last info: 2011

---
History:
Delivered to US Navy as Bu. 126935.
Delivered to l'Armee de l'Air as No. 56, Jan. 11, 1961.
Delivered to FA Chad as ??, Apr. 7, 1976.
Didier Chable, Melun.Etampes, France, Aug. 1988-1989.
- Registered as F-AZFO.
- Arrived in France from N'djamena, Chad, Feb. 7, 1989.
Richard & Hyla Bertea, Corona del Mar, CA, Sept. 1989-1992.
- Registered as N2088G.
- Shipped to Long Beach, CA.
- Delivered to Chino, CA, Sept. 9, 1989.
Danny J. Summer
, Sugar City, ID, 2000-2011.
- Flown as USMC/14/HB.
- Crashed and destroyed, Twin Falls, ID, March 08, 2011.
---
NTSB Identification: WPR11FA156
14 CFR Part 91: General Aviation
Accident occurred Tuesday, March 08, 2011 in Twin Falls, ID
Aircraft: DOUGLAS AD-4N, registration: N2088G
Injuries: 2 Fatal.
This is preliminary information, subject to change, and may contain errors. Any errors in this report will be corrected when the final report has been completed.
On March 8, 2011, about 1628 mountain standard time, a Douglas AD-4N, N2088G, owned and operated by the pilot, crashed in the Sawtooth National Forest. The accident site is located about 35 miles south-southeast of Twin Falls Regional Airport, Twin Falls, Idaho (TWF). The airplane was destroyed by impact forces and a post impact fire. The private pilot and passenger were fatally injured. About the time of the accident, visual meteorological conditions prevailed at TWF. The personal flight was performed under the provisions of 14 Code of Federal Regulations Part 91. No flight plan was filed. The flight originated from Wendover, Utah, about 1550.
No witnesses reported observing the accident. When the airplane failed to arrive at its destination, concerned family and friends reported it overdue. Local authorities, including the Civil Air Patrol, initiated a search. The airplane was subsequently located partially covered by snow, about 6,000 feet mean sea level.
The Federal Aviation Administration (FAA) coordinator reported that no air traffic control facility reported communications with N2088G during the afternoon of March 8.
The airplane was recovered from the accident site. A structural examination of the airframe and engine are pending.
According to the FAA, the airplane held an airworthiness certificate in the experimental, exhibition racing category.
TWF's elevation is 4,154 feet mean sea level. At 1639, TWF reported scattered clouds at 2,600 and 3,900 feet above ground level (agl), and a broken ceiling at 6,000 feet agl.
---
Source(s):
Chapman, John & Goodall, Geoff, Edited by Paul Coggan - Warbirds Directory,Warbirds Worldwide Ltd., Mansfield, England, 1989.
Federal Aviation Administration, www.faa.gov, 2007.
NTSB.

Photo Source(s):
Chuck Gardner
Timothy Cox Photography
Research Assistance:
None

---
WARBIRD REGISTRY
>
SKYRAIDER REGISTRY
>
PREVIOUS PAGE
---