---
WARBIRD REGISTRY
>
SKYRAIDER REGISTRY
>
PREVIOUS PAGE
---
SKYRAIDER/Bu. 124143
---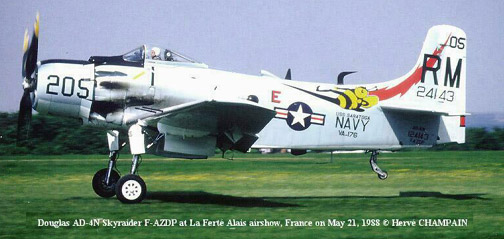 ---
Bureau #: 124143
Construction #: 7449
Civil Registration:
N91909
F-WZDP
F-AZDP

Model(s):
AD-4N Skyraider
A-1D Skyraider
Name: None
Status: Airworthy?
Last info: 2011

---
History:
Delivered to US Navy as Bu. 124143.
Delivered to l'Armee de l'Air as No. 14, June 10, 1960.
Delivered to F.A. Gabonaise as TR-KFP, 1972-1984.
Jack Spanich, Detroit, MI, 1976.
- Registration N91909 reserved but not taken up.
Aero Retro, St. Rambert d' Albion, July 20, 1984.
- Registered as F-WZDP.
Jean Baptiste Salis, La Ferte-Alais, France, July 1984-2011.
- Registered as F-AZDP.
- Flown as 24143/RM-205/USS Saratoga.
- Damaged in mid-air collision with
CA-18 Mustang/A68-192/Big Beautiful Doll
,
Duxford, UK, 2011.
---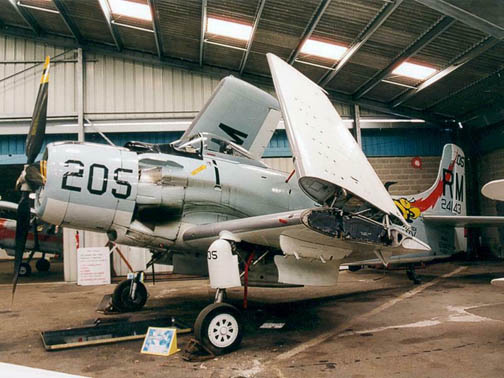 ---
Source(s):
Chapman, John & Goodall, Geoff, Edited by Paul Coggan - Warbirds Directory,Warbirds Worldwide Ltd., Mansfield, England, 1989.

Photo Source(s):
-
Research Assistance:
None

---
WARBIRD REGISTRY
>
SKYRAIDER REGISTRY
>
PREVIOUS PAGE
---